Looking for an unskilled job role requiring little to no education? Want to settle in Saudi Arabia? Cattle Herdsman Jobs would be the best and easiest option for you. Though it requires you to be experienced with animals and how to tame them, your employer may provide you with training before joining. The biggest benefit of this job is that you don't require any education or previous experience (as per the paper ad). But obviously, only a person who knows how to get well along with animals can perform this job.
By searching online job search portals, online newspapers, and hard copy newspapers, one finds that Saudi Arabia is one of the biggest overseas employer for Asian and African jobseekers along with the UAE and Gulf countries. Saudi companies advertise many skilled and unskilled Jobs every month through their agencies in Pakistan. The most common job roles available are for technicians, teachers, engineers, and business and finance professionals. The most applied-for job role among the labour/unskilled category is Makkah and Madinah Cleaning Jobs. In this post, you can know all the details of Cattle Herdsman Jobs in Saudi Arabia along with the link to apply online. So, let's get started: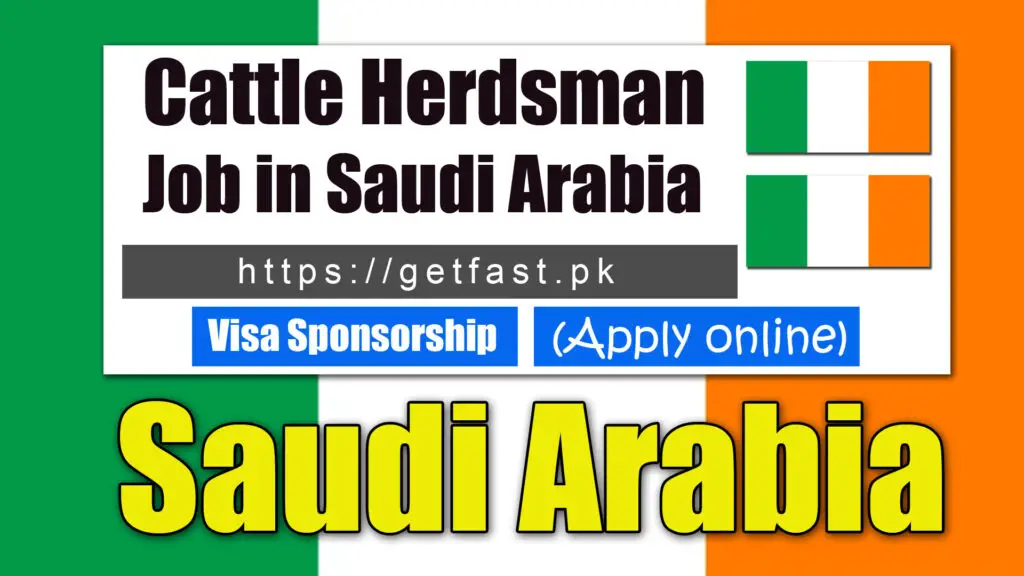 Job Details:
Job title: Cattle Herdsman
Region: Riyadh, Saudi Arabia
No.of Persons: 1 M
Knowledge required: No
Experience required: Preferably Yes
Free food: No
Free Accommodation: No
Free ticket: No
Visa Sponsorship: No
Medical insurance: No
Free transport: No
Offer expiry date: 17 May 2023
Click here to apply for Poultry Jobs in Saudi Arabia with visa sponsorship
All livestock Jobs are available in Saudi Arabia for Pakistanis.
Cattle Herdsman.
Breeding Livestock worker.
Livestock worker.
Cattle Attendant.
Livestock Assistant.
Production Supervisor.
Livestock specialists.
Power production Technician.
Process Engineer.
Farm operator.
Farm manager.
Veterinary Doctor/ Assistant.
Tubewell operator.
Vehicle drivers.
Electrical cum Mechanical supervisor.
Storekeepers.
Quantity surveyors.
Artificial insemination technician.
Sanitary workers/ Cleaners.
Security guards and so on.
Related: Food Packing Helper Jobs in Portugal
Average Salary of a Cattle Herder in Riyadh, Saudi Arabia.
The average salary of a Cattle herder in Saudi Arabia depends upon his experience, employer, location, etc. However, according to the Ad displayed by the Government of Pakistan website, a cattle herdsman is paid an average of SAR 1000 Riyal per month.
Job Requirements:
As a labour job role, it does not require any special education or high experience. However, there is only one job position available. So, the more experience any candidate has, the more chances of him being hired. Other requirements are conventional, like a work permit, work visa, a passport valid for the last 6 months with a blank visa page, medical record, criminal record, valid job offer, etc.
More Jobs: Factory worker jobs in Ireland with visa sponsorship
How to apply?
Apply through an online newspaper or online job search portal. You click on the job, upload your CV, submit the required documents, and send the application.
Other visa-sponsored jobs in Saudi Arabia.
There are plenty of skilled and unskilled job roles available.