Beverage Waiter Jobs at Dubai Golf Club: Do you want to move abroad as a job seeker? We can say it safely that Dubai, or UAE in general, must have been in your priority list. Even though UAE (especially Dubai) offers a sea of opportunities for skilled and unskilled workers alike, Mostly unskilled workers want to move there for labor jobs. This post discusses one such job opening for Beverage Waiter Jobs at Abu Dhabi Golf Club. This Golf Club also organizes social events and leisure activities other than the Troon Golf. A Food/ Beverage waiter delivers customer orders and executes teamwork with coworkers to deliver/ elevate the best dining experience for the customers. A great thing about this job posting is that it is for both males and females i.e. Waiters and Waitresses both job vacancies are open. Read on below to find more: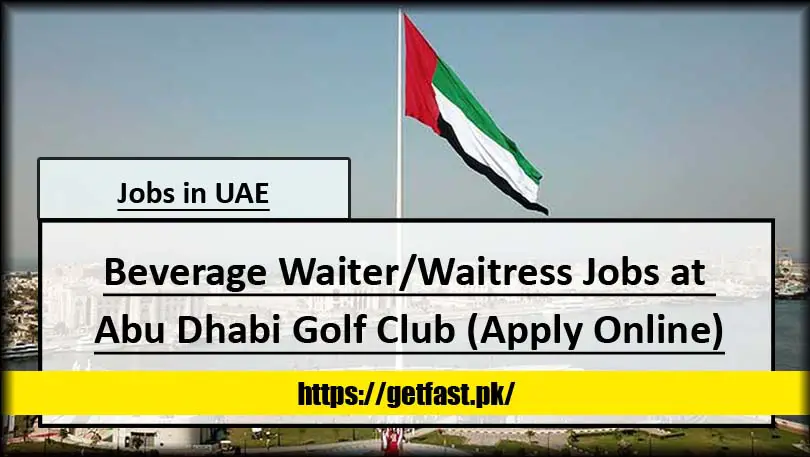 Details of Beverage Waiter/ Waitress at Abu Dhabi Golf Club.
Job title: Beverage Waiter/ Waitress
Job region: Abu Dhabi, UAE
Job hours: 8 hours a day/ 40 hours per week
Employer's name: Abu Dhabi Golf Club
Overtime available: Yes
Knowledge required: No
Experience required: Yes
Expected Salary: AED 15-20 per hour
Related: Research Manager, Disease Tracking job in London
Requirements of Beverage Waiter/ Waitress Jobs at Abu Dhabi Golf Club:
Must have at least one year experience as a waiter or waitress.
Must have hands-on experience with digital ordering system/ ordering information systems and maintaining cash registers.
Basic Math Skills.
High School Diploma and Food Safety training is a plus.
Must know basic Arabic and English.
Pro-active Guest Service Skills.
Good Food/ Beverage Presentation skills.
Strong communication and interpersonal skills.
Must be physically fit as this job requires frequent standing, walking, and bending.
Must be quick and responsive and have a good memory for menu-related questions.
Should have teamwork skills.
Must be able to work in a fast-paced and stressful environment.
Must be willing to work alternate shifts, during weekends, or overtime.
Job Responsibilities of a Waiter/ Waitress at Abu Dhabi Golf Club:
Serve Food and Beverage items.
Clean, maintain, and set up all functions and private rooms before guests arrive.
Move tables and chairs when necessary and as assigned.
Maintain a clean service corridor.
All hotel possessions and equipment like props and glassware should be properly cleaned before and after use and should be stored properly.
Inform supervisors of all problems and complaints.
Related: Australian Farm Working Visa Sponsorship Jobs
How to Apply for Waiter/ Waitress Jobs at Abu Dhabi Golf Club:
Click on the link provided below to apply for the job. Make sure to make an account on Smart Recruiters first. If not, make one and provide your email address to get a verification email over there. Then, you will be entitled to click on your desired job role and apply by providing your CV with all the necessary information.