Australia Truck Driver Jobs for Foreigners 2023: Is Australia your dream destination? Don't have any degree or any experience in a well-known organization? Don't worry. You can still get a chance to move there with a well-paid job. This post is specifically for those who have Heavy Vehicles driving experience because it discusses Australia Truck Driver Jobs for foreigners in 2023. You can learn all prerequisite qualifications for the job, job requirements, salary package, job benefits, and all other necessary details.
Australia is facing a severe labour shortage in many sectors of its economy. According to Shell.au, As of February 2023, online jobs platform SEEK has posted more than 22,000 vacant positions for truck drivers in Australia, highlighting a driver-scarcity problem that poses a serious threat to the future of Australia's road-freight industry. That's why Australia is seriously pondering over importing foreign truck drivers for its freight/ goods transport industry. If you are a truck driver or have an HTV license, read this post carefully as it is both a career-saving and life-saving option for drivers.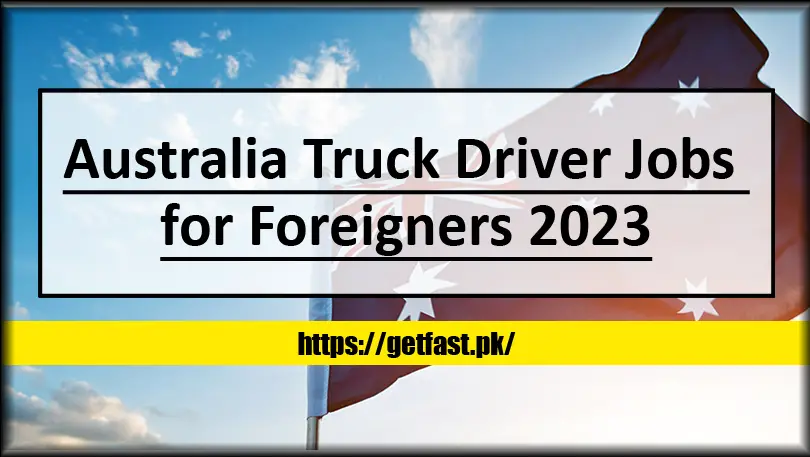 Details of Australia Truck Driver Jobs 2023:
Job title: Truck Driver/ Heavy vehicle driving
Country: Australia
Visa Sponsorship: Mostly Yes
Experience required: Yes
Knowledge required: Mostly No
Employee benefits: Yes
Related: Unskilled Jobs in Canada with Visa Sponsorship (Application Process)
Requirements of Australia Truck Driver Jobs:
No minimum education requirement.
Candidate should have at least 2 years of experience. Some employers demand a minimum of 3+ years of experience or maybe up to 5 years of experience.
If your employer is not sponsoring you for an employment Visa, other visa options available include the 189, 190, or 491 visas, a working holiday visa, or be able to work under another type of visa such as a spouse visa or international student visa. It is also good to know that all visas have some restrictions like the 190 visa requires you to work in a particular state only while international students can work for a particular number of hours.
Candidate should have a state-issued truck and heavy vehicle license and undertake a medical examination to become a truck driver in Australia. It is recommended to acheuve Certificate III or IV in Driving Operations after receiving TAFE traininb or local RTO training.
Candidate shouldn't have any criminal or not recommended health background.
Candidate should have at least 4 bands in IELTS.
Benefits of Australia Truck Driver Jobs:
Truck drivers are compensated well. According to Transport Driving Training, According to statistics, the average salary for a heavy vehicle driver in Australia is $61,000 which is higher than average.
As there is a shortage of truck drivers in Australia, there is a vast job market for them and a lot of job opportunities.
Employee benefits like health benefits, life insurance, paid vacations, and retirement/ pensions plan (depending upon the employer).
Work-Life balance.
Opportunity to travel and explore.
Career and professional growth opportunities.
Visa approval is guaranteed as a nation is in need of truck drivers.
This an easy way to accelerate your migration journey to Australia.
Average Salary of a Truck Driver in Australia
According to Au Talent, A truck driver earns an average salary of $64,583 per year or $33.12 per hour in Australia. Entry-level positions start at $58,500 per year, while most experienced workers make up to $80,268 per year. However, a driver's salary depends upon his experience, the location or state he is working in, who his employer his, or what is his employer's terms and conditions.
Which Australian company pays highest to the truck drivers?
The company that pays the highest to the truck drivers is HC & MC Truck drivers whose average salary for start-ups is around $80,000 to $120,000 annually approximately.
Related: Websites To Find Farm Worker Jobs In Canada For Foreigners
How to apply for Australia Truck Driver Jobs 2023?
By clicking on the link below, you will be routed to the official job search portal, use the application button given below the job description.
You can also use/ search yourself for the job by using the search box and the location box, to narrow down your job search results. Type your job title, e.g., " Truck Driver Jobs in Australia for foreigners", "Heavy vehicles driving jobs in Australia", "HTV driving jobs in Australia for foreigners", or "Driving Jobs in Australia for foreigners."
Select your desired location in Australia to make your search results more precise.
It's better to update your CV or Resume and Cover letter according to the latest market trends as there is a high chance that your employer might notice the layout/ presentation.
Examine the job posting details like job description, job requirements, job responsibilities, etc.
Ensure you meet all requirements before you apply. Examine the job role and its requirements carefully.
Click the "Online Application" button given below.
Fill out the necessary details being asked and submit the application.
Verify the reception of a confirmation email for your sent job application.
More Visa-sponsored Truck Driver Jobs in Australia
Click here for more Visa-sponsored Truck Driver Jobs in Australia:
Click here to apply for more truck driver jobs with Visa Sponsorship