Agriculture Jobs in Australia with visa support: Nothing can be a bigger opportunity than Agriculture/ Farm Jobs in Australia for those unskilled workers in underdeveloped countries not having much education and experience. According to Wikipedia, this huge piece of land is mostly arid, but still is a major agricultural producer and exporter, with over 325,300 employed in agriculture, forestry, and fishing as of February 2015. In 2018-19, agriculture contributed to 11 % of the Australian Trade. Agriculture and its closely related sectors earn $155 billion a year for a 12% share of GDP. Farmers and grazers own 135,997 farms, covering 61% of Australia's landmass. According to Britannica, Australia is an important source of export cereals, meat, sugar, dairy produce, fruits, and vegetables.
In this post, we will discuss all Agriculture/ Farm Jobs in Australia offering visa sponsorship for international applicants. This post lays down a complete guideline to apply online along with the link to apply.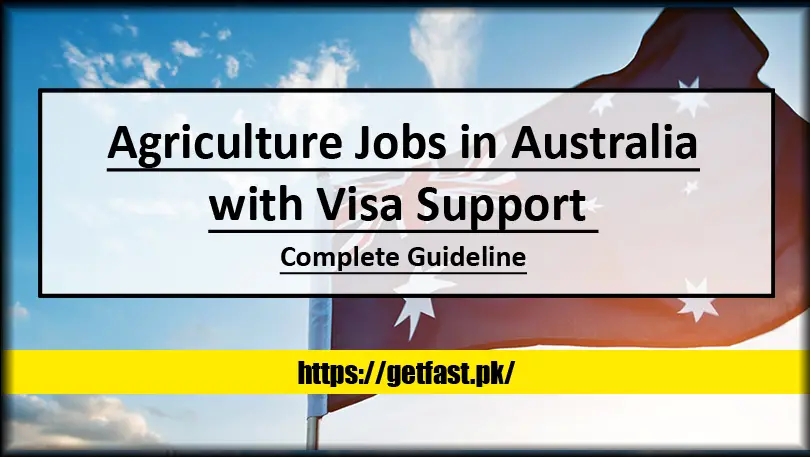 Details of Agriculture Jobs in Australia with Visa Support:
Job title: Agriculture Jobs
Country: Australia
Expected Salary: Averagely AUD 20-25 an hour
Free Food: Yes. By some employers
Free Accommodation: Yes. By some employers
Health Insurance: Yes
Employee benefits: Yes
Who can apply: International Applicants
Application Deadline: 28th July 2023
More Jobs: Caregiver Jobs In UK For Foreigners, Visa Sponsored
Requirements of Agriculture Jobs in Australia with Visa support:
The farm job description includes the following common skills and qualifications:
Unskilled Farm roles don't have any minimum education requirement, but educated job roles (finance, management, animal sciences, agricultural research) needs relevant degree/ diploma/ certificate. Some employers require Secondary education as a minimum even for unskilled farm jobs like a farmer.
Previous experience in Agriculture Industry is compulsory by some employers while an asset for others.
Candidate must be a fluent English Speaker. Skilled and highly skilled roles like managerial positions require IELTS with minimum 4 bands.
Candidate must be physically fit and should have a medical certificate before immigration as farm jobs need frequent standing, stooping, and bending. Educated farm jobs are mainly office jobs and don't have such conditions.
Farm Workers should have excellent mind-hand coordination and educated job roles, let's say a sales associate needs to be well-versed and sharp in his field.
All job roles need excellent customer service and communication skills.
You need to have a valid employment offer from your employer and a work sponsor. Otherwise, you need to procure a work visa on your own.
You must be legally allowed to work in / immigrate to Australia.
Candidates may be required to have certain licenses or certifications, such as a driver's license, pesticide application license, or animal handling certification, depending on the role.
You can work as an agricultural/ seasonal worker on a valid two years work permit, permanent Immigration, student visa, or most commonly, a working holiday visa.
More Jobs: Farm Jobs in China With Visa Sponsorship 2023
Most common Farms in Australia offering visa support/ sponsorship:
According to the Government of Australia,s official Agriculture website, the following farms employ international workers commonly with and without visa support. Moreover, these farms are most commonly present in Australia. So, international job seekers should look for jobs on these farms:
Dairy Farms.
Beef Farms.
Livestock Farms (commonly sheep farms).
Wheat Farms.
Cereal grains farms like oats, barley, corn, rice farms, etc.
Sugarcane/ Sugar Farms.
Apple Farms.
Citrus Farms.
Blueberries Farms.
Pear Farms.
Grape Farms.
Peach Farms.
Nashi Farms.
Cherries Farms.
Kiwi Farms.
Nectarine Plum Farms.
Pulses Farms.
Sorghum Farms.
Cotton Farms.
Tomatoes Farms.
More Jobs: Farm jobs in Germany with visa sponsorship
Top in-demand unskilled/ skilled Agriculture Jobs in Australia with Visa Support/ Sponsorship:
According to various web sources, the following farm job roles are in the highest demand:
Farmer/ Farm Hand/ Farm person.
General Farm Head.
Fruit/Vegetable Pickers and Packers.
Dairy/ Livestock Workers.
Fruit/ Veg Manager and Assistant Manager.
Irrigation Operators.
General Labourers.
Sales Associate Merchandising.
Farm Technical Trainee.
Accounts Lead.
Chain Manager.
Cashier.
Product Manager.
Forest Interns.
Cattle/ Livestock Attendants.
Animal Sciences Researchers/ Specialists.
Veterinary doctor/ Assistant.
Price reporter.
Retail Team member.
Agriculture Analyst.
Delivery experts/ Drivers.
Quality control experts.
Winter Harvest Farm Workers.
Summer Harvest Farm Workers.
In-Store Team members.
Warehouse Operators/ workers.
Climate Smart Agriculture Officials.
Sales Manager/ Talent Manager/ Other management roles.
Agriculture Research Associate.
Agro-Science educators.
Viticulturists.
Agricultural Engineers.
Watchguards.
So on and so forth.
Benefits of Agriculture Jobs in Australia with Visa support:
A very vast job market or many farms that have one or another job role for you as Australia has one of the biggest agricultural potentials in the world/ production figures.
Plenty of skilled and unskilled job roles in all fruits/ vegetables/dairy/livestock farms.
There are many unskilled job roles in Australian farms that don't have any minimum education or experience requirements.
A considerable number of farm job opportunities in Australia come up with free visa sponsorship/ food/accommodation options.
Every employer has its own set of employee benefits like employee social benefits, long-term benefits, or health benefits.
Australian Labour Law gives many rights and privileges to locals as well as international job seekers.
Visa support/ sponsorship. Australian Agricultural employers need a foreign workforce.
The flexibility of work schedule as these jobs are on a shift basis. Moreover, there are many part-time job roles available as well.
Agricultural jobs are great for those who don't have high education and experience in any modern scientific or tech fields and equally great for those who have high physical strength/ energy levels/ or are physically fit.
You will have a great intercultural experience in Australian farms.
Good salary plus overtime for general farming roles.
Personal and professional development.
More Jobs: IT Jobs In Germany For English Speakers (Easy Apply)
General Description of Farm Jobs/ Agriculture Work Settings:
The job description of each employee depends upon the farm he works in, his job role, the employer's conditions, the type of crop grown on the farm, etc. However, general farm duties are mentioned below:
Grow and Harvest Crops or Supervise every step of their production and sale from seed sowing to finalizing sale output figures.
Examine soil conditions, market conditions, state and federal laws, and federal program availability to determine how to grow and sell crops and livestock.
Maintain and repair farm machinery.
Maintaining fark facilities like waterways, hoses, fences, animal shelters, crop and fertilizer inventory, etc.
Supervising everything about crop production and ranging like planting, fertilizing, harvesting, and herding.
Perform all sale activities for crops and livestock and maintain sales figures and records, etc. In other words, act as crops or livestock sales agents.
Keeping all essential farm records like production, taxation, sales, and employee records.
Select and purchase the best farm supplies like seeds, fertilizers, machinery, maintenance supplies, etc.
Overseeing farm activities and farm workers.
Liaising with/ interacting with clients.
Devising best harvesting and breeding strategies for crops or animals.
Implementing best health measures for livestock after coordinating with a vet.
Maximize or boost production and sales as prescribed by sales personnel, associates, or agriculture researchers.
Performing farm maintenance.
Performing manual labour where necessary.
Average Salary of Agriculture Jobs in Australia with Visa Support:
The average salary of an Agricultural Worker depends upon many factors like what type of farm you work on, whether your job role is skilled or unskilled, your qualifications, past experience, what job role you have, duty hours, etc. However, according to Seek, an average farm worker earns around AUD 20.32 per hour.
More Jobs: Housekeeping jobs in Germany for English Speakers (Apply online)
How to Apply for Agriculture Jobs in Australia with Visa Support?
By clicking on the link below, you will be routed to the official job search portal, use the application button given below the job description.
You can also use/ search yourself for the job by using the search box and the location box, to narrow down your job search results. Type your job title, e.g., " Farm Jobs in Australia with visa sponsorship", "Farm Jobs in Australia for foreigners", "Agriculture Jobs in Australia for foreigners/ with visa sponsorship", or "Unskilled Jobs in Australia for foreigners". Try specific job titles like "Farm Manager Jobs in Australia with visa sponsorship", and "Farm Sales Manager Jobs in Australia."
Select your desired location in Australia to make your search results more precise.
It's better to update your CV or Resume and Cover letter according to the latest market trends as there is a high chance that your employer might notice the layout/ presentation.
Examine the job posting details like job description, job requirements, job responsibilities, etc.
Ensure you meet all requirements before you apply. Examine the job role and its requirements carefully.
Click the "Online Application" button given below.
Fill out the necessary details being asked and submit the application.
Verify the reception of a confirmation email for your sent job application.
More Agriculture Jobs in Australia with visa sponsorship:
Click on below to find more Agriculture Jobs in Australia with Visa Sponsorship:
Click here to find more visa-sponsored agriculture jobs in Australia